entrepreneurs
,

business owners

and

experts.
How do entrepreneurs, business owners and experts influence themselves, their clients, and teams to maximize profitability, efficiency, and create lasting impact? How do they simplify life and business and yet, still achieve more? What's the ONE thing separating the mediocre from the best? This podcast will give you the answers and reveal the secret strengths and the not-so-easy-to-admit flaws of the elite.
We don't settle

A Badass doesn't settle for a mediocre life. We do not apologize for our dreams, existence and desires.

We fight for greatness

A Badass is relentless, we go after what we want. We are fearless. We dominate our life and we are not dominated by it.

We are leaders not followers

A Badass doesn't live according to other people's beliefs and values. We carve out our own path. We do and things differently. We are unshakeable.
About Satori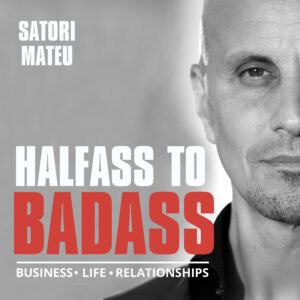 The #1 challenge faced by entrepreneurs, business owners, and experts is how to grow a successful business without getting distracted, overwhelmed and sacrificing health and family.
Satori Mateu is the guy who went from wanting to commit suicide, thinking life was over to becoming a world champion in Karate at the age of 24, a successful business owner, 2 X #1 bestselling author, speaker, highly paid coach, proud father, and husband.
He has helped elevate the performance and revenue for famous entrepreneurs like Tony Robbins, corporations including Mercedes Benz and Bank of America, Olympic Gold Medalists and thousands of entrepreneurs, business owners and experts who want to make a bigger impact with their message.
In Halfass to Badass, Satori helps his audience to create a fulfilling life and business on their own terms without losing connection with family, and sacrifice health.